Post by Alberto Ibanez on Mar 10, 2020 20:51:06 GMT
Round 5 - Molson Grand Prix du Canada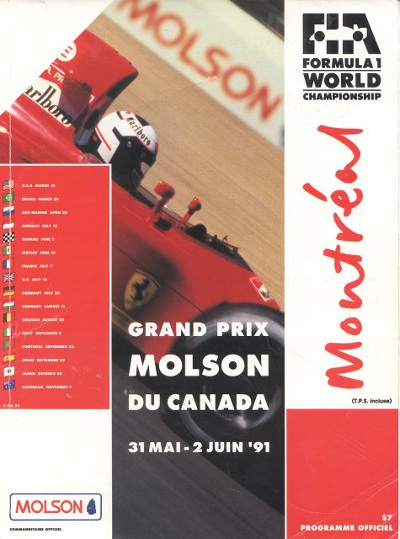 For this race we will be using the AMS Montreal 1988 track.

Race Day Schedule - All times are PARIS time
18:30 - Qualifying (1 hour - 12 laps)
19:30 - Warmup
20:00 - Race (69 Laps or 2 hours)

Race start procedure
All races shall have 1 formation lap followed by a standing start.

Server information
Server Name : ISO F1 1991
Server IP : 51.77.116.8:34197
Server Password : iso91

A training server will be running 24/7 (same password).

BEHAVIOUR ON TRACK


As for all ISO races, it is required you use your real name both in-game and on the forum. Thank you.
Chatting during the race is strictly forbidden, talking during a qualifying session is only permitted for technical difficulties, but please whisper to the admin in charge to limit the disturbance towards other drivers. The code to add before your message when using whisper chat in the AMS is the following:

/w adminname Message
Example:

/w Richard Coxon I have a problem.


Respect the red light at the end of the pitlane.
APPLICATION AND INTERPRETATION OF THE REGULATIONS
The admins/moderators are qualified to solve any problems raised by the application and the interpretation of the present regulations.
ENTRY LIST
Entry will turn
bold
when driver has confirmed
Any cars listed as
TBA
are available for
one off drives
#01 Honda Marlboro McLaren - Juha Bos#02 Honda Marlboro McLaren - Alberto Iquino#03 Braun Tyrrell Honda - Pascal Mikula#04 Braun Tyrrell Honda - Victor Alcocer#05 Canon Williams Team - Dave Miller#06 Canon Williams Team - Bruno Chacon#07 Motor Racing Developments - Grant Riddall#08 Motor Racing Developments - David Jaques
#09 Footwork Grand Prix International - TBA
#10 Footwork Grand Prix International - TBA
#11 Team Lotus - Thiago Canola#12 Team Lotus - Timo Vermeersch
#14 Fondmetal - TBA
#15 Leyton House Racing - Richard Wilks#16 Leyton House Racing - Gianluca D'Esposito
#17 AGS - TBA
#18 AGS - TBA
#19 Camel Benetton Ford - Adam Hackman#20 Camel Benetton Ford - Mick Chapman#21 Scuderia Italia - Ray Riddall#22 Scuderia Italia - Richard Coxon
#23 Minardi Team - David Jundt
#24 Minardi Team - Brian Janik
#25 Equipe Ligier Gitanes - Dan Melo
#26 Equipe Ligier Gitanes - TBA
#27 Scuderia Ferrari - David Sabre#28 Scuderia Ferrari - Mike Olsen#29 Larrousse F1 - Anders Nilsson#30 Larrousse F1 - François Remmen#31 Coloni Racing - Kayo Michiels
#32 Team 7Up Jordan - Jan Kowalski
#33 Team 7Up Jordan - Gabriele Del Piccolo#34 Modena Team - Oscar Hardwick#35 Modena Team - Tim Hille