Post by Alberto Ibanez on Jan 10, 2020 16:20:48 GMT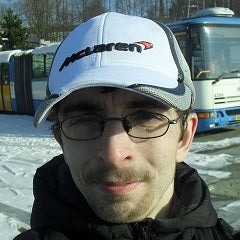 So who was Lukáš Vydra?
If you haven't been around in the previous years, you might not know who Lukáš Vydra was, and what his relation to ISO was. Lukáš was born in Ostrava, Czech Republic on may the 22nd, 1993 and was a big fan of motorsports and simracing. After joining several leagues in the simracing scene, he arrived at HSO and ISO in 2018 and quickly became friends with all of us. Besides being a cheerful, clean and very active racer, his great interest in many technical aspects of motorsports and love for working with number and statistics lead him to create many tables to reflect the results of our series, taking to himself the task of providing additional scores for some series like CART where unofficial stats were kept in real life besides the official ones, like oval and road circuits score, nations cup, etc. Young, enthusiastic, polite and helpful as well as a tireless worker and a gentleman racer, he was the typical guy who was really hard not to like, and always great to be close to.
On June the 18th 2019 however, he suddenly disappeared and, some time later, terrible news struck all of us when we learned that he had passed away in tragic circumstances. Lukáš is now sadly gone, but he will not be forgotten, which is why we decided to create this special trophy, dedicated to honour his memory on a yearly base.
The Lukáš Vydra Trophy
This trophy will comprise at least 5 selected races over the year, sometimes from a regular Sunday series and sometimes from an open event, aiming to determine the most versatile drivers in the league, and crown as champion the best among them. It will therefore cover the main disciplines in racing, from open wheelers to sports, touring and GT cars, from oval to road and street courses, from free to spec cars. Because Lukáš was an enthusiast of Formula 1 and McLaren cars, all those elements will always be present in the trophy.
Those races will score as per their own series in them, but will also score for this Trophy according to the following scale*:
| | | | | | | | | | |
| --- | --- | --- | --- | --- | --- | --- | --- | --- | --- |
| 1st | 2nd | 3rd | 4th | 5th | 6th | 7th | 8th | 9th | 10th |
| 15 | 12 | 10 | 9 | 8 | 5 | 4 | 3 | 2 | 1 |
Points will always be scored, but to be eligible as Trophy winner it is also a requisite to finish in at least 3 of the races.
*Round 5 consists of two separate heats, with half points being awarded for each heat.
*The final round will count for double points in the Trophy.
We invite all of you to join us in this celebration of our friend's memory and enjoy the very special challenge posed by this Trophy.