Post by Alberto Ibanez on Dec 22, 2021 8:56:24 GMT
The 2022 Lukáš Vydra Trophy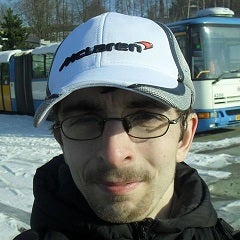 Who was Lukáš Vydra?
If you weren't around in the previous years, you might not know who Lukáš Vydra was, and what his relation to ISO was. Lukáš was born in Ostrava, Czech Republic on May the 22nd 1993 and was a big fan of motorsports and simracing. After joining several leagues in the simracing scene, he arrived at HSO and ISO in 2018 and quickly became friends with all of us. Besides being a cheerful, clean and very active racer, his great interest in many technical aspects of motorsports and love for working with numbers and statistics lead him to create many tables to reflect the results of our series. He took to himself the task of providing additional scores for some series like CART where unofficial stats were kept in real life besides the official ones, like oval and road circuits scores, nations cup, etc. Young, enthusiastic, polite and helpful, as well as a tireless worker and a gentleman racer, he was the typical guy who was really hard not to like, and always great to be close to.
However, on June the 18th 2019, he suddenly disappeared and, some time later, the terrible news struck all of us when we learned that he had passed away in tragic circumstances. Lukáš is now sadly gone, but he will not be forgotten, which is why we decided to create this special trophy, dedicated to honour his memory on a yearly base.

We invite all of you to join us in this celebration of our friend's memory and enjoy the very special challenge posed by this Trophy!


Series Admins

Juha Bos
Alberto Ibañez
The Lukáš Vydra Trophy - Rules and points


This trophy will comprise at least 5 selected races over the year, sometimes from a regular Sunday series and sometimes from an open event, aiming to determine the most versatile drivers in the league, and crown as champion the best among them. It will therefore cover the main disciplines in racing, from open wheelers to sports, touring and GT cars, from oval to road and street courses, from free to spec cars.
| | | | | | | | | | | | |
| --- | --- | --- | --- | --- | --- | --- | --- | --- | --- | --- | --- |
| Points | Race duration | 1st | 2nd | 3rd | 4th | 5th | 6th | 7th | 8th | 9th | 10th |
| Normal | 30 min.-1 hour | 15 | 12 | 10 | 8 | 6 | 5 | 4 | 3 | 2 | 1 |
| Double | 2 hours | 30 | 24 | 20 | 16 | 12 | 10 | 8 | 6 | 4 | 2 |
| Triple | 3 hours | 45 | 36 | 30 | 24 | 18 | 15 | 12 | 9 | 6 | 3 |
* Race durations are estimates, the points allocation scale will be announced in each race thread.
If two or more drivers finish the championship with the same number of points, ties between these drivers shall be resolved in the following order:
1. The greatest number of first places.
2. The greatest number of second places and so on.
3. The date on which the drivers achieved their first win.


BEHAVIOUR ON TRACK

As for all ISO races, it is required you use your real name both in-game and on the forum. Thank you.

Chatting during the race is strictly forbidden, talking during a qualifying session is only permitted for technical difficulties, but please whisper to the admin in charge to limit the disturbance towards other drivers. The code to add before your message when using whisper chat in the AMS is the following:



/w adminname Message
Example:

/w Juha Bos I have a problem.



Respect the red light at the end of the pitlane.

Respect all pit exit/entry procedures as listed in the race thread.


Drive Through: If a driver has to do a drive through, even if there is no pit lane speed limit, he has to drive through the pitlane at 100 km/h max (60 mph). Not respecting this rule will result in a 30 second penalty at the end of the race.

If you have a spin on the track or leave the track, it is YOUR responsibility to make sure the track is sufficiently clear before you rejoin the race.


Driving back to the pits on anything less than 4 wheels is not allowed in any session. Drivers must stop in a safe place and ESC out of the race. Failure to do so may result in a post race penalty.

Race Control may request drivers who are circulating at a very slow pace to retire. Drivers must stop in a safe place and ESC out of the race. Failure to do so may result in a post race penalty.

PROTESTS
A protest form is available in the main forum page (Top navigation bar) should a driver consider that a race incident in which has was involved himself merits disciplinary or corrective action. Any inappropriate comment regarding incidents will be deleted by an admin. Protests have to be logged no later than 72 hours after the race ends. Protests filed in names of other drivers will not be accepted. Any resulting rulings will be posted after this 72 hour period has expired.

APPLICATION AND INTERPRETATION OF THE REGULATIONS

The admins are qualified to solve any problems raised by the application and the interpretation of the present regulations.